Crawler transporter mainly u

sed
On Uneven/Slope Ground
,complex environment transportation and so on.
built undercarriage is featured by rubber tracks and solid steel rocking rollers ensuring a smooth ride for the operator and minimum ground damage. In some restricted area like unpaved land, orchard farms, field, vineyards, hills, or a place where paths are narrow, a mini transporter is very useful resulting

from its compact size and great loading capacity.
Crawler walking is small grounding pressure and could not hurt the grass and
Strong adaptability to the ground (non-slipping on sand and snow). It is also remoted controlled machine.
Auto crawler transporter mainly used in farmland, orchard, greenhouses, nurseries snow, sand and the construction site ,hilly area, flood land, desert, warehouse, mine, and ice surface etc.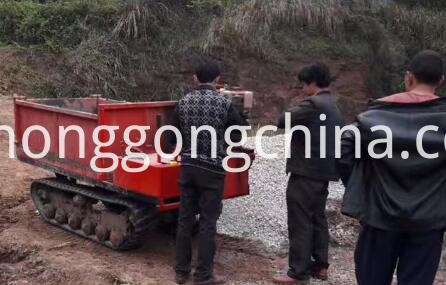 Remoted crawler dumper Technical Parameters
Engine rated power: 12kw
Engine rated speed: 2200r/m
Rubber track size:2000*230mm
Loading capacity: 0.8 m3
Rated pressure: 16Mpa
Dimensions(L*W*H):2600*1000*1200MM
Total weight: 1500kgs
Kategori Produk : Crawler Transporter